Who hasn't been a part of the long-standing debate between downtown and suburban living when the matter arises? When the time comes for either yourself, a family member or friend to buy a house or condo in Calgary, most of us usually have an opinion about where it should be and why.
A Buyer's Agent could help guide you in making this decision since buying a home is a big undertaking, and all aspects should be carefully considered before any decisions are made.
It might seem that people that choose between an inner city or a suburban residence may just have basically different values and interests, but the reality is that there are other elements that affect their decision.
What it really comes down to, is what kind of lifestyle do you want for yourself and your family and what kind of compromises are willing to make. You will probably need to choose between a costlier smaller inner city property, but within walking distance to work, shops, restaurants and schools; or a less expensive larger suburban property with a big backyard and plenty of parking, but with the inconvenience of having to drive for pretty much anything you need. All these factors make matters more complicated.
Jesse Davies & Associates will try to make things easier for you to decide between the two by mentioning some pros and cons for both options and helping you realize what lifestyle fits you best.
Inner City Calgary
People move to downtown Calgary for many different reasons. A growing number of empty nesters (parents with no children left at home) are looking to downsize and to make their life easier with what Calgary can offer them. This means less maintenance, walking to grocery stores, outdoor markets, coffee shops and evening or weekend walks by the bow river. Young working professionals are the main residents of most inner city residences with easy access to high end restaurants, the ability to walk/bike to work and be close to where all the action is can be seen as a huge benefit. The majority of what Calgary has to offer in dining and entertainment, is mostly in the inner city and downtown.
People with an eco-centric philosophy can avoid contributing to the city's pollution and traffic jams by leaving their car parked at home and bicycle commuting, or by taking transit.  When living close to downtown Calgary, getting around is easier as buses have more frequent stops and run longer than suburban routes.
Calgary's urban communities are usually older communities, they tend to be more mature often creating natural beauty with larger trees that provide additional privacy.
On the other hand, there are fewer large grocery stores and box stores within the city core. Urban areas don't have as many open park spaces for children to play, however Calgary is known for its green spaces which includes the inner city but not so much the downtown core.
Another downside to urban living, is higher crime rates, urban white noise from traffic and the occasional siren from firetrucks and ambulances amplified by the big city buildings.
If you have children, you might have that neighbour that will pound on the wall whenever they make any noise and you might not feel safe letting them run to a near by park to play on their own.
Suburbs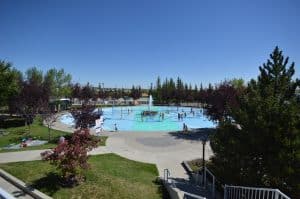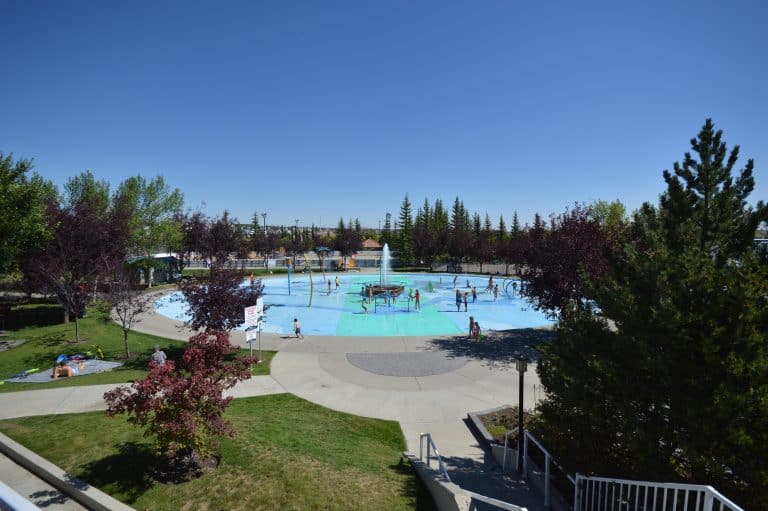 The suburban lifestyle is attracting younger people looking to switch from renting to buying and families with children that have outgrown their smaller downtown condos. Families that want to have that backyard with the large trampoline for the kids, the big dog, that home-grown garden, and a sense of safety and security.
Communities in the suburbs tend to have a stronger community feel and offer home owners a peaceful living experience, away from the loud city and jam-packed streets.
There are larger malls and shopping centres and it can be easier and quicker to run your daily errands. You would have more living space as houses here are typically larger and cost less than an equal size house in the downtown area.
Suburban communities, like Tuscany for example, are newer Calgary communities, which means newly built houses, therefore less maintenance and expenses. Tuscany is a suburban community that feels like a town of its own with plenty of amenities, services and stores.
Some may argue that living in the suburbs makes you feel isolated, especially if you do not have a car or a driver's license. Calgary's rapidly growing population is making traffic in daily rush hour a bigger problem for commuters. A 30-minute drive can turn into an hour or more if the road conditions are bad. This affects how much quality time you get to spend with your family, especially if you have young kids that need to go to bed early.
In terms of parking costs, Calgary has the highest monthly rate in all of Canada; around $500/month for a downtown parking spot.
When it comes to making that big step to choose between buying a home in the inner city or suburban area, a Calgary realtor who possess the required experience and knowledge of the current market, will make that decision just a bit easier for you. In the end, what everyone is looking for is their dream home, somewhere where you can enjoy your life at the fullest.